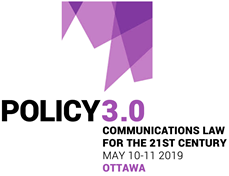 Rights & Responsibilities in Canada's Electronic Communications Law
A LAW AND POLICY CONFERENCE BY THE FORUM FOR RESEARCH AND POLICY IN COMMUNICATIONS

MAY 10-11 2019
DESMARAIS HALL, 55 LAURIER AVENUE EAST
UNIVERSITY OF OTTAWA
In June 2018 the federal government announced the review of Canada's 1993 telecommunications, 1991 broadcasting and 1989 radiocommunications statutes, by a panel of external experts. The Broadcasting and Telecommunications Legislative Review panel is "to engage with the industry, creators, and Canadians – including those from Indigenous and official-language minority communities – in order to ensure that Canada's communications legislation takes full advantage of the benefits that the digital age brings to our country." The #BTLR panel began its consultations in September 2018; written submissions were due in January 2019 (a number are available at http://frpc.net/submissions-to-the-broadcasting-and-telecommunications-legislative-review-panel/). The panel will publish an interim report in June 2019, and a final report by 31 January 2020.
This two-day conference will address the rights and responsibilities that Parliament should (or should not) set out in law, and will include addresses by two keynote speakers – Mark Starowicz, OC (Grand Passage Media), and Brad Danks (OutTV). Following six sessions in which expert panelists discuss and debate matters ranging from sovereignty to governance, conference participants will be invited to identify policy objectives that Parliament must prioritize – and protect.
Looking for a schedule showing times?: Here it is!
New survey results: Canadians' views on issues raised by the Broadcasting and Telecommunications Legislative Review
FRIDAY, 10 MAY 2019

The right to sovereign control over communications systems
Samer Bishay (Iristel), Suzanne Lamarre, P. Eng. (Therrien Couture), Dr. Gregory Taylor (Canadian Spectrum Policy Research, Konrad von Finckenstein, QC (former Chairperson, CRTC)
The right to be informed – strengthening democracy in Canada by ensuring the production and distribution of local, national and international news
Kevin Chan (Facebook), Jeffrey Dvorkin (University of Toronto), Michel Cormier (Leaders' Debates Commission), Dr. Wade Rowland (York University)
The right to universal, affordable access to distribution systems
Bram Abramson (Decentral), Tim Denton (ISOC), Katrine Dilay (Public Interest Law Centre), Janet Lo (TekSavvy), Laura Tribe (OpenMedia)
The right to sovereign control over audio-visual content, and the responsibility to reflect Canada to all people in Canada
Lisa Anderson (Deaf Wireless Canada), Carol Ann Pilon (APFC), David Sparrow (ACTRA), Dr. Dwayne Winseck (Carleton University)
SATURDAY, 11 MAY 2019

The responsibility to set a clear mandate for, fund, and distribute a national content provider in the 21st century
Daniel Bernhard (Friends of Canadian Broadcasting), Jeffrey Dvorkin (University of Toronto), Paul Gaffney (Public Broadcasting for the 21st century) and Dr. Christopher Waddell (Carleton University)

The responsibility to ensure effective governance of the communications system in Canada's public interest
Kirwan Cox (Quebec English-language Production Council), John Lawford (PIAC), Ann Mainville-Neeson (Telus), Kamala Rao (Canadian Media Guild)
Which rights and responsibilities matter most? Priorities that Parliament should set for Canadian communications – a moderated discussion for all participants
Registration for the conference includes electronic access to all materials before, during and after the conference; access to all sessions; morning and afternoon refreshments, and lunch. Special rates for students, public-interest organizations and government. Tickets (for the entire event) must be purchased before the conference, which may be counted towards Ontario legal practitioners' hours of continuing professional development.
| | |
| --- | --- |
| Tickets | Registration |
| Students (enrolled in the 2018/19 academic year) | 70.00 + EB fee + GST/HST = $85.07 |
| Faculty (on sabbatical or teaching in 2018/19 academic year) | $300.00 + EB fee + GST/HST = $360.79 |
| Members of not-for-profit organizations | $300.00 + EB fee + GST/HST = $480.66 |
| Full-or part-time government employees | $400.00 + EB fee + GST/HST = $480.66 |
| Retirees | $160 + EB fee + GST/HST = $192.95 |
| All others | $450.00 + EB fee + GST/HST = $540.70 |
Contact: Monica Auer, Executive Director, FRPC: execdir@frpc.net
Twitter: #policy21C